About
Our Mission
To benefit our community through sponsorship, organization and promotion of Eagan's July 4th Funfest, an annual community celebration.
Directors:
Scott Swenson, Chair
John Flynn, Vice Chair and Operations Committee Chair
Bill Gleason, Treasurer and Finance Committee Chair
Brent Cory, Secretary and Marketing/Publicity and Communications Committee Chair
Michelle Boe
Steve Dobin
Angie Johnson
Marshall Mullett
Jerri Neddermeyer
Marie Olson, Ambassadors Committee Chair
Denise Pederson Sjoberg
Andrew Pimental
Angie Schaefbauer
Jordan Schuetzle, Technology Committee Chair and Strategic Planning Chair
Committee Members:
Mike Clark
Doug Mizener
Jim Eayrs
Marie Merwin
Kathryn Field
Sandi Clark
Karen Dare
Elle Gilbert
Chrissy Martinez
DeAnn Wilmes
Mary Gilbert
Ed Neppel
Bob Renz
Committee Liaisons:
Eagan Convention and Visitors Bureau
City of Eagan
Eagan Parks and Recreation
Eagan Police Department
Committee Meetings:
Eagan's July 4th Funfest Committee meets the first Thursday of each month; 7:00pm at the Eagan Community Center. Please contact info@eaganfunfest.org for more information and to receive a copy of the
agenda.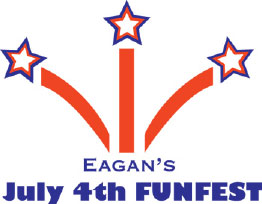 Annual Reports:
2006 – 2007
2007 – 2008
2008 – 2009
2009 – 2010
2010 – 2011
2011 – 2012
2012 – 2013
2013 – 2014
2014 – 2015